Borussia Dortmund hosted the Rangers at home in the 1/16 Europa League. The meeting took place at the Signal Iduna Park stadium in Dortmund.
---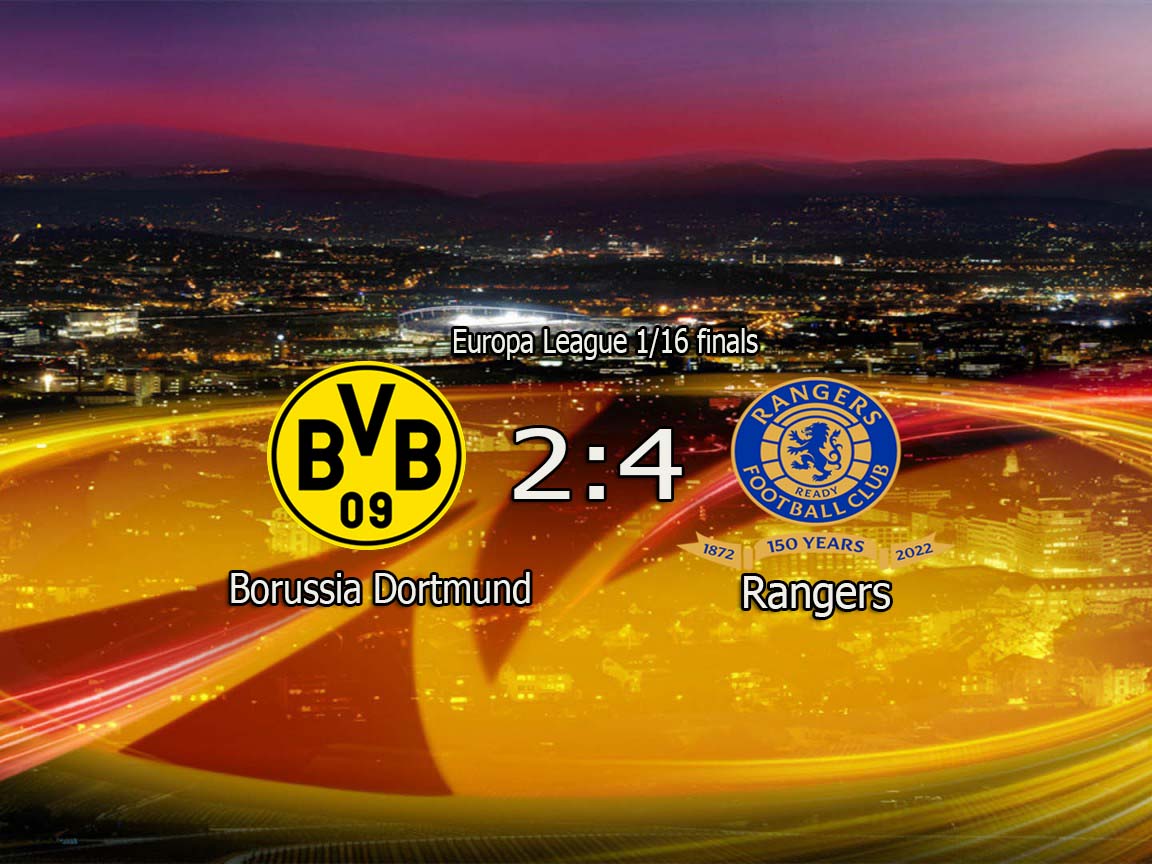 Goals: Tavernier, 38 – from the penalty spot (0:1). Morelos, 41 (0:2). Landstrom, 49 (0:3). Bellingham 51 (1:3). Zagadu, 54 – in his own net (1:4). Rafael Guerreiro, 82 (2:4).
Male, Zagadu, Rafael Guerreiro, Hummels, Akanji (Schultz, 55), Dahood, Royce (Reinier, 82), Brandt (Reina, 46), Bellingham, Witsel (Mukoko, 46), Malen (Tigges, 68)

.

McGregor, Tavernier, Bassey, Goldson, Barisic, Landström, Jack (Ramsey 86), Aribo (Camara 86), Airfield (Sands 66), Kent, Morelos (Wright 90+3)

.
Warnings: Zagadou, 73 – McGregor, 79.
Referee: Turpin (France).
---
Borussia Dortmund started the half well, there were crosses for the penalty area by the defender, but nothing dangerous came of it. On 38 minutes, the Dortmund defender gave the guests a penalty, he made a mistake in his zone, and had to foul. Rangers confidently converted this penalty, the goal was scored by James Tavernier. Three minutes later, the guests managed to double the advantage, on 41 minutes the Rangers striker Morelos scored from a corner. As a result, the half ended with the score 0:2.
The second half started very productively. The visitors tripled their lead in the 49th minute thanks to John Lundstram's brilliant left foot from outside the box, and two minutes later Borussia closed the lead thanks to Jude Bellingham who rolled the ball into the net beautifully to make it 1-3.
After the missed Rangers did not relax and on 54 minutes, Morelos picked up the ball on the left flank and managed to deliver a shot that flew off Zagadu into Kobel's net. As a result, the defeat in favor of the guests.
The three-goal lead certainly put the Rangers in a comfortable position, and they chose to sit back on defense and end up hitting the hosts on the counterattack. Dortmund, meanwhile, struggled to find their way through a tenacious Rangers defense until the 82nd minute, when Rafael Guerreiro scored a long-range goal to somehow save the match. But there were no more goals in this match. This is a fiasco for the German club.
Dortmund will face a really tough challenge when they visit Glasgow next week and need to do a lot better if they want to reach the round of 16.