The World Football Organization has announced the 2021 Football Player of the Year.
---
On Monday, January 17, the FIFA The Best awards ceremony for the best football players of 2021 according to FIFA took place in Zurich.
FIFA has formed a team according to the 3-3-4 scheme.
The captains of the national teams, head coaches and journalists from each country took part in the voting. They all named their three winners.
Team of the Year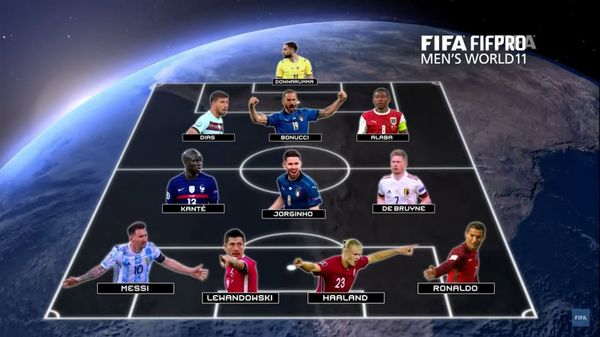 The composition of the impromptu team looks like this:
Gianluigi Donnarumma – Ruben Dias, Leonardo Bonucci, David Alaba – Ngolo Kante, Jorginho, Kevin de Bruyne – Lionel Messi, Robert Lewandowski, Erling Haaland, Cristiano Ronaldo.
Personal Awards of the Year
Bayern Munich's Robert Lewandowski was named Player of the Year, ahead of PSG's Lionel Messi and Liverpool's Mohamed Salah.

Chelsea manager Thomas Tuchel named best mentor

.

Chelsea and Senegal goalkeeper Edouard Mendy was named the best goalkeeper.
Voting results table:
Footballer

Role

Citizenship

Club(s)

Pts

1.

Robert Lewandowski

Attack

Poland

Bavaria

48
2.

Lionel Messi

Attack

Argentina

Barcelona/PSG

44
3.

Mohamed Salah

Attack

Egypt

Liverpool

39
4.

Karim Benzema

Attack

France

Real

30
5—6.

Ngolo Kante

Halfback

France

Chelsea

24
5—6.

Jorginho

Halfback

Italy

Chelsea

24
7.

Cristiano Ronaldo

Attack

Portugal

Juventus/MU

23
8.

Kylian Mbappe

Attack

France

Chelsea

16
9.

Kevin de Bruyne

Halfback

Belgium

ManCity

11
10.

Neymar

Attack

Brazil

PSG

10
11.

Erling Holland

Attack

Norway

Borussia D

7