On the night of January 22-23, in Anaheim (USA), the UFC 270 tournament is being held at the Honda Center stadium. Gan.
---
This fight was one of the most talked about in recent days. The fight lasted all 5 rounds, which was more interesting for the fans.
For Ngannou, this was the first defense of the belt since the victory over Stipe Miocic in March 2021. Gan suffered the first defeat of his career.
Details of the fight
First round
In the first attack, Cyril Gun went on the attack. He pressed his opponent to the net, but he failed to come up with something creative. Francis answered the opponent with the same coin. At the end of the second minute, Ngannou rushed to the attack and hit hard a couple of times. One of the blows seemed to land in the groin. The round turned out to be even. So far, Cyril manages to fight in his own style. Ngannou had no options from the heart to kiss his opponent.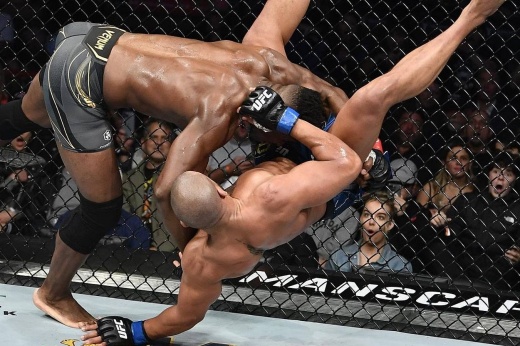 Second round
In the second round, nothing interesting happened, both fighters took the tactics of accuracy, and could not do anything to each other. And it's hard to say who took the round where there were almost no attacks.
Third round
But the third five-minute period turned out to be more meaningful. Twice Ngannou transferred the opponent to the floor, hit him with emphasis several times and decently exhausted Gan. Confident and spectacular, the reigning champion takes this round.
Fourth round
The first two minutes of the round, Francis was breathing frankly, trying to recover from the intense work in the previous five minutes. Cyril failed to take advantage of this situation and at the end of the second minute he was again on the floor. Ngannou managed to transfer and control on the floor for a long time. Even when Gan managed to get up, he was pressed against the net and instantly transferred to the ground. The Frenchman is outright losing the fight. In one of the episodes, he managed to put his knee on Cyril's head. Everything will be decided in the last round.
Fifth round
During the break, coach Gan did not deceive his fighter, saying that things were going to defeat. You need to gather your strength and change the course of the fight. And Cyril as a tank popped on an opponent. Several hits to the head put a great backlog. And, finally, the challenger managed to transfer the champion to the floor. But it was not possible to take advantage of this. Moreover, at the end of the second minute, Ngannou managed to move into a dominant position. Gan's last chance is a heel twist. The applicant spent all his last strength on this action and … failed. The ending was left to Francis.
Following the results, the current heavyweight champion Ngannou won by unanimous decision – 48-47, 48-47, 49-46.