In the return match of the 1/8 finals of the Champions League met the two top clubs Liverpool – Inter. As you know, the first outcome of the match ended with a score of 2-0 in favor of Liverpool.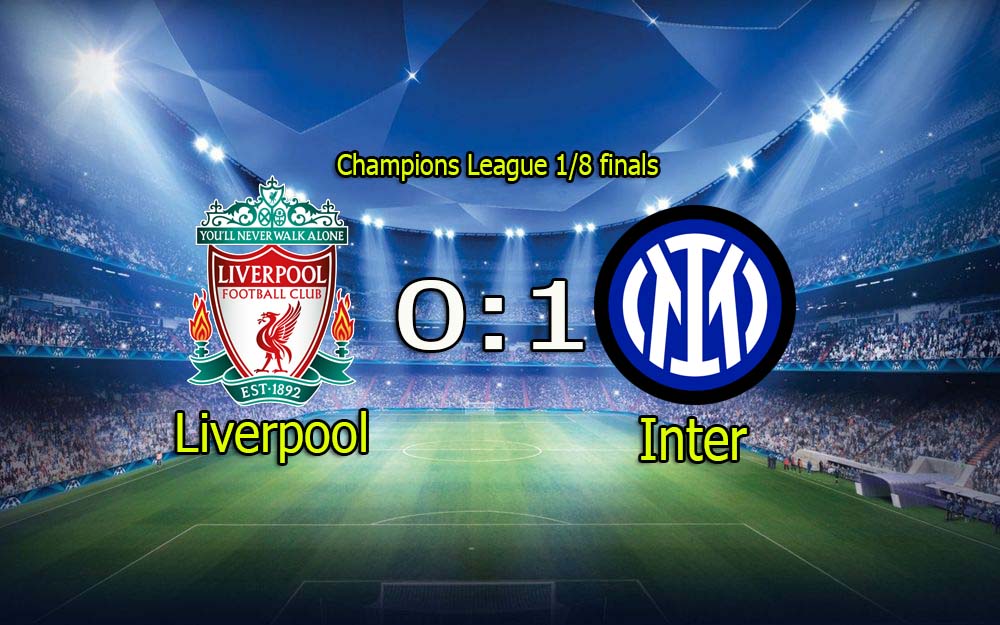 Goals: Martinez, 61 (0:1).
| | |
| --- | --- |
| Alisson, van Dijk, Robertson, Matip, Alexander-Arnold, Fabinho, Tiago Alcantara (Henderson, 66), Jones (Keita, 65), Mane, Salah, Diogo Jota (Diaz, 83). | Handanovic, Dumfries (Darmian, 75), de Wray (D'Ambrosio, 46), Skrinjar, Bastoni, Hakan Calhanoglu (Vesino, 83), Vidal, Brozovic (Gallardini, 75), Sanchez, Martinez (Correa, 76), Perisic. |
Warnings: Diogo Jota, 40′. Robertson, 47′. Mane, 71′ – Sanchez, 45+4′. Vidal, 45+6′. Bastoni, 85′. Gagliardini, 90+4′.
Penalties: Sanchez, 63′ (2nd foul).
Referee: Laos (Spain).
---
Inetra's first game was not very good, the club lost at home with a score of 2-0. In Italy, the fans did not really believe in a comeback after losing at home. But in today's match Inter looked to rehabilitate themselves and almost made a miracle.
In the first half, both teams played extra cautiously. Both clubs took only six shots on goal in the half. Inter started the half better, tried to create a moment and there was active pressing. Then Liverpool dominated for 20 minutes with their pressing. Along with this, both did not take risks, did not play with a burst. Therefore, dangerous moments occurred only from the standards.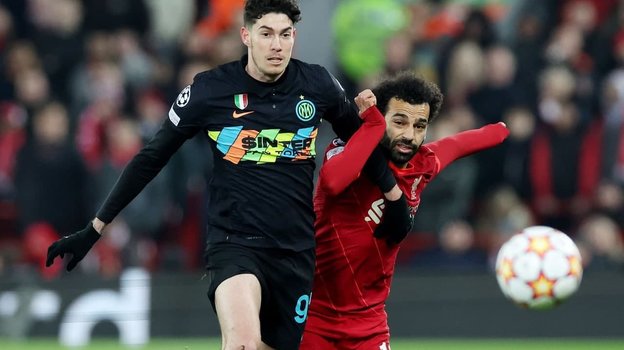 First dangerous moment was when a Liverpool defender hit the crossbar, then Van Dijk could have realized the moment, but Inter's defense cleared the ball in time. Also, the goalkeeper of the English club – Alisson hit off a treacherous free kick by Calhanoglu from the flank.
In the second half, Inter went all-out and began to give everything to the attack to score a goal. Liverpool, meanwhile, took advantage of this and created a dangerous moment, Mohamed Salah almost overcame, also Handanovic saved from Jota's strike. Liverpool didn't have much luck in this match. Inter also responded with a dangerous moment by Martinez, first turning around and missing a bit. Then, after a steal from Sanchez and a brilliant strike from outside the penalty area, which flew into the net to make it 1-0.
In the middle of the second half the real struggle began. Head referee Laos sent off Sanchez for a dangerous tackle on the leg of a Liverpool player. With ten men, the Italians could not attack. From that moment until the end of the match they possessed the ball only 23 percent of the time, did not shoot on goal, almost never attacked, fought only in defense. Liverpool during this time had two shots on goal, but failed to score.
As a result, Liverpool advanced to the quarterfinals of the Champions League. Inter fought as hard as they could but the club from England was stronger.