On the night of May 19, the first meeting in the series Calgary Flames – Edmonton Oilers took place. The two teams scored 15 goals in this match.
---
NHL Hockey Quarter Finals
| | | |
| --- | --- | --- |
| Calgary Flames | 9-6 | Edmonton Oilers |
Goals: Lindholm E. (1-0). Mangiapane A. (2-0). Ritchie B. (3-0). McDavid C. (3-1). Coleman B. (4-1). Coleman B. (5-1). Bouchard E. (5-2). Tkachuk M. (Power-play) – (6-2). Hyman Z. – (6-3). Hyman Z. – (6-4). Draisaitl L. – (6-5). Yamamoto K. (6-6). Anderson R. – (7-6). Tkachuk M. – (8-6). Tkachuk M. (Empty net) – (9-6).
PIM: 16-12.
Referee: McCauley W. Furlatt E. – ( Canada).
Venue: Scotiabank Saddledome (Calgary).
---
Calagari had a very good first period, and managed to score three goals.
Andersson threw a nickel from the blue line. Here, Linholm fought well and set up a stick, from which the projectile flew into the net (1-0).
Bäcklund took the puck behind another goal and gave a pass to a penny, where there was only one Manjapane, who easily outplayed Smith, throwing it exactly into the top corner (2-0).
He took the puck off the side of Zadorov and threw it forward to Ritchie, who, in the fight against the defender, unexpectedly threw it exactly into the near bottom corner of Smith's goal (3-0).
Managed to win back one puck guests. Barry crossed from the left side to the penny, where McDavid received the projectile, paused and pushed it exactly into the bottom corner under Markström's pads (3-1).
In the second period Calagari managed to score 3 more goals. Coleman scored a double and Tkachuk scored another goal.
Edmonton did not give up so easily, and scored 4 goals in the second period. That allowed to reduce the score by just one puck (6-5). The double was designed by Dreiseitl and Hyman.
In the third period, the guests managed to level the score (6-6). Thanks to Edmonton's goal.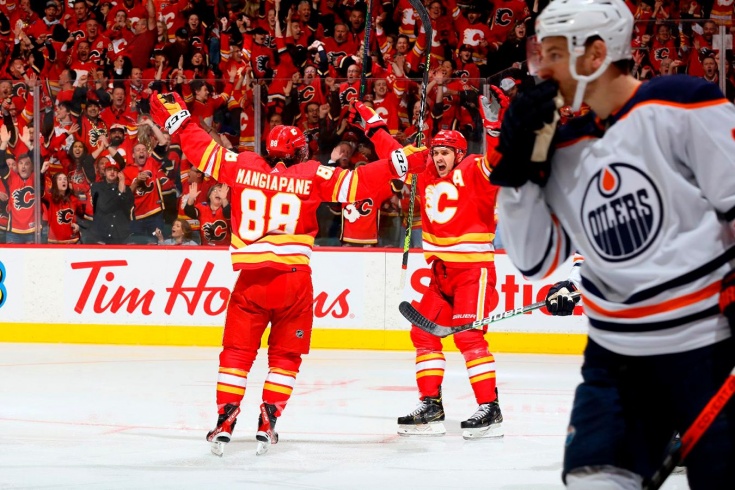 But still, the hosts got together and scored three goals in response, which became decisive in this match. Goals were scored by Andersson and Tkachuk's double.
Calgary Flames took the lead in the series 1-0. The next meeting will take place on May 21st.
---
Download:
Match Germany– Canada: Ice Hockey World Championship 2022
---